Batch 1 market transformation ideas
As part of the market transformation initiative (MTI) development process CalMTA is developing MTIs in batches throughout 2024 and 2025. The first batch of ideas to advance are highly scored, but also are most ready for near-term MT development. This and future batches are being selected from the 117 ideas submitted through the Request for Ideas held in summer 2023. Additional information on the status of each of the 117 Ideas received during the RFI will is detailed in a draft Stage 1 Disposition Report, which will be finalized in January 2024. 
Batch 1 MTIs
For this Batch 1 set, the MTI development team identified three "front runners," which were found to have the following characteristics:  
Well-defined product definition, preliminary market transformation theory, and program logic
Clear leverage points that are likely to be effective at producing market change
A clear role for CalMTA
Any needed research or pilot projects can be scoped and completed in a short timeframe
A full MTI Plan will be developed for these and the other highest ranked ideas that will form at least two additional batches. For some markets, development of these plans will take over a year, in others, CalMTA expects to have these "front runner" MTI Plans developed within 12 months. Below is a summary of the three Batch 1 MTIs and links to the full draft Advancement Plans. Public comments on the three draft plans are being accepted until Dec. 20 through the Public Documents Area website.
Portable/ Window Heat Pumps
Sector: Existing single-family & multifamily residential homes 
Portfolio Priorities: Equity, Energy Savings, GHG Reductions 
Product Definition: Portable and window heat humps (aka micro heat pumps) are affordable, self-contained consumer products that provide efficient heating and cooling for small spaces. These devices can be self-installed and plugged into standard 110-volt outlets. CalMTA will promote units that can still provide heat when the outdoor air temperature is below 41F, include air filtration, use low GWP refrigerants, and incorporate controls to allow the units to be grid-responsive in the future.  
Preliminary Market Transformation Theory: Existing multifamily and small, single-family households often suffer from higher energy burdens, impacts from increasingly frequent climate events, and exposure to poor air quality. This market needs an efficient and affordable electric alternative to resistance and gas space heat while also providing air conditioning and air filtration, which will improve air quality. Many consumers in this market purchase inefficient space heaters and window A/C units to supplement their heating and cooling needs and buy separate air filtration products during fire or poor outdoor air quality events.   
Barriers to widespread adoption include overall product category availability, high cost, lack of awareness, efficient product differentiation and insufficient number of models that include air filtration or are grid enabled.  
Read the Portable/Window Heat Pumps Draft Advancement Plan.
Induction Ranges and Cooktops
Sector: New & replacement in single-family & multifamily residential 
Portfolio Priorities: Equity, Energy Savings, GHG Reductions 
Product Definition: Induction ranges and cooktops use electromagnetic induction to heat cookware directly. Unlike traditional gas or electric stoves, which heat the burner, and the burner in turn heats the cookware, induction stoves work by directly heating the cooking vessel. They save energy through instant, direct, and efficient heat transfer, and provide precise temperature control. They do not emit noxious gases that contribute to reduced indoor air quality. Induction cooktops are available on combined stove/oven units, as a cooktop installed in a countertop, or as portable plug-in countertop units. 
Preliminary Market Transformation Theory: Gas ranges are the most prevalent cooking method in California single-family and multifamily units with over 70% market share. Induction cooking has been available for several years with most major manufacturers offering models, but the product has yet to be widely adopted. For many years gas cooking has been marketed as offering a superior cooking method so consumer awareness on the benefits of induction cooking is low.  
CalMTA will engage in Key market interventions to accelerate the adoption of induction cooking include driving greater product availability and awareness through retail partnerships and programs that already target multifamily and single-family decarbonization.  CalMTA will engage manufacturers to develop lower-priced models that include induction but without premium add-on features and collaborate with direct installation programs to demonstrate to manufacturers that there is a market for more affordable products. 
Read the Induction Ranges and Cooktops Draft Advancement Plan.
Efficient Commercial Rooftop HVAC (ERTUs)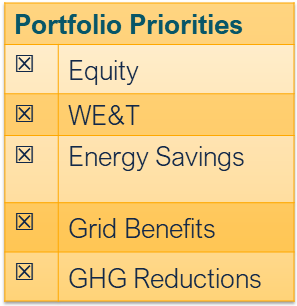 Sector: Small & medium existing & new commercial buildings 
Portfolio Priorities: Equity, Workforce, Education & Training, Energy Savings, GHG Reductions 
Product Definition: Roof Top Units (RTU) are forced-air systems that package the evaporator, condenser coils, fans, and heating components into a single unit to serve a building's heating, cooling, and ventilation needs. Three main design improvements addressing supply efficiency, heat recovery, and an improved shell can deliver 10–40% energy savings beyond today's minimum efficiency RTUs. Greater savings and grid benefits can be achieved through the addition of advanced controls strategies.  
Preliminary Market Transformation Theory: Potential market interventions to tackle the physical design improvements will include manufacturer engagement on affordable product availability and utilization, and development of a California-appropriate tiered rating system that supports better equipment design and purchasing decisions.  
There is currently a national collaborative engaging in this market through a tiered specification approach. The tiered requirements provide both prescriptive and performance paths.  
Read the Efficient Commercial HVAC (ERTUs) Draft Advancement Plan.
Watch the video
Want to learn more? Check out our video below from the December 1, 2023 Advisory Board meeting, where the CalMTA team offer details about these three MTIs.